The Old Laurentians have been based at Fenley Field, Bilton, since we bought the ground in 1939. Unfortunately we couldn't really make use of it straightaway due to the intervention of one Adolf Hitler, and for the first few years of its life Fenley Field was devoted to growing vegetables for the war effort. Shortly after peace was restored, the OLRFC played their first game at Fenley Field in September 1945, and work was begun to create a clubhouse.
The first clubhouse was a de-mobbed Nissen Hut, and this provided the base for the existing clubhouse which has evolved and grown over the years into the form it is today.
Sad to say, and despite its much-loved heritage, the clubhouse is now ageing faster than it can be maintained and repaired, and we have recognised for many years that we need to do something drastic: to re-build or replace.
So the committee have given a band of enthusiastic volunteers - the Friends of Fenley Field - its blessing to pursue all options to re-new, re-build, or replace the clubhouse at Fenley Field. Progress has been exciting, and the favoured option is to build a brand new clubhouse between the current clubhouse and the grandstand at the side of the 1st XV pitch.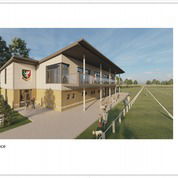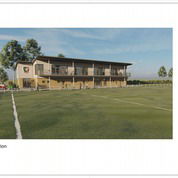 This will all require a lot of time, effort, and money, and so we are appealing for help on two fronts:
1. Money
Most important because raising the funds is the major hurdle to overcome before work can begin. A lot of initiatives are already underway, tapping into as many resources as possible (e.g. Sport England, RFU, local businesses, etc.), but we feel that we should also be looking to our own membership for support. You can help in many ways, small and large - one of the easiest is to sign up for the Rugby Lotto, with the chance to win £25,000, and support the Friends of Fenley Field. Direct donations of any amount would of course be very welcome, and can be made via the Laurentian Charitable Trust for tax efficiency - please contact Kevin Cossar if you would like more details. On a slightly more morbid note, bequests from estates can also be a tax-efficient mechanism for some people.
2. Skills and Support
If you have any skills that might be useful to the development, or have a business that could support the project, in a pro bono manner (or at advantageous rates) please contact the Friends of Fenley Field directly through their website.